Yes, it's Father's Day and the above was one of the trending hashtag by my organisation. Yes, my organisation celebrates almost all kinds of days you can think of.
Anyway, wished Dad when the clock struck 12am and all he replied was OK. Dad is a person of little words. It's been a while since I last saw him. I can't even remember when was the last, thus no current picture with him. Unlike
Mabel
who gets to see the parents every week or two. Jealous of her.
Here, I would like to wish everyone a
Happy Father's Day!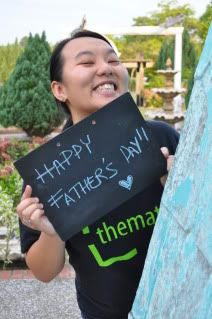 That's a pretty lame picture of me with the message on a blackboard. Yes, I'm lame. But at least my #HariBapa2011 message gets across!