As you can see, I can never say no to invitation that is food related. Well, I seldom say no. Via Advertlets, Holiday Villa sent out invitations to give as a feel of how they celebrate New Year Eve this year. Yes, I went to the future and come back to tell you how Holiday Villa strut their stuff.
Here is proof that I was there in future.
Now here comes the 'future' food! The spread was awesome as I have no idea how many variety of food are there. Wait, let me try counting... 1, 2, 3.. oh well.
First stop. The Carvery Station. I couldn't resist the temptation of turkey. The once a year must have meet. Served with rosemary sauce (top) or giblet sauce (bottom).
Mushi mushi Nihon Ryori! Specially brought to you by Chef Takashi who flew all the way from Japan to prepare it for us..and soon to be you. Sushi, tempura and the irresistible California roll.
This is one of my personal favourite. Where ever I go, if I see yee mee, chances are I'll order it. Same goes here. You can selected the different types of noodles they have and they'll cook it on the spot for you in a claypot. Hot is the keyword when it comes to noodles. The soup is so tasty that I would have gone for a second bowl if only my tummy had more room.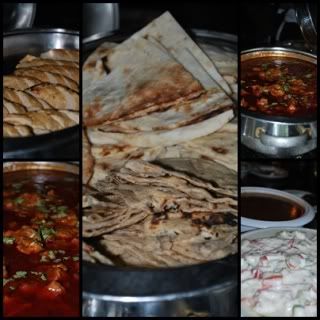 Look at the types of items you can select to go with your Tom Yam and also the Thai spicy kerabu
And the tandoori.
So, if you would like to treat your family or loved ones to a wonderful dinner experience other than the usual fireworks, then head on to Holiday Villa!
Do make your reservations ok?
Holiday Villa Hotels & Suites
9, Jalan SS12/1, 47500 Subang Jaya, Selangor
Tel : 603 5633 8788