The days were upside down nearing and during the First Ladies Summit (FLS). My schedule was haywire. No one knows their exact job function on that day. But we pulled it off well after we decide and split the job among ourselves making sure we cover every areas. Doesn't matter if the head approves or not but as long as it is our job and it went on well.
Running all over Palace of the Golden Horses (POGH) was a challenge when we had to pretend that we were already familiar with the place when the other people comes. Yes, there are signages all over but if the person can't see it, they really can't.
In any way, I believe the Comm team went well when we were mostly left out in briefings. I realised that we did not take much pictures of us and out of the entire team, I only have this particular picture of us. Oh well, better than none.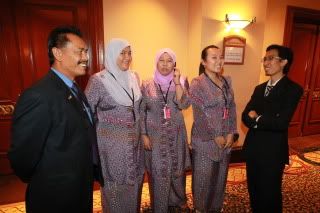 Now that FLS is over, it's time for Children's Day on end of October and East Asia Family Forum on early November. I'm going to be all over town again.
:)