Today is the 21st day of Raya. Gosh, time really flies fast and this is the only time I have to blog about Raya. Well, I should be drafting my cover letter instead but I just needed some time off during this lunch hour.
So far only went to three open houses. Two of Syaza's, and one of Fara's. It is a great get together especially for us tweeps (twitter peeps) cos hey, who would have thought that people you met online are just as nice or even nicer than people you met offline.
It took me a while to warm up cos there's a number of them which I have no idea who they were at all and everyone else were talking to them like they have known each other for ages. Yes, not to forget, tweeps have the Twitter addiction thingy. With phones on their hands, they can be tweeting the person who are they talking to right in front of them.
It was fun. I never had so much fun. Work was the last thing on my head though I have to work right after that as everyone is off and there has to be someone at the office.
Here's the ala group picture from the three houses/venues :)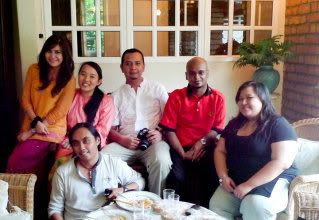 L-R: @syazaliyana (host), me, @kazwan, @cloco, @icednyior, @absolutefusion (seated)
Seated on sofa (L-R): @kazwan, @cloco, @techsupremo, @rararawr @khiromar
Seated on floor (L-R): @nadyazee, @farafauzi (host), me, @bugbitesandco, @faliqfahmie
Around : @kazwan, Shah, @absolutefusion, @azri83, @icednyior, @iwanshafiee, @rararawr, @khiromar, me :)
That's Raya thus far. Now lunch time is over. Back to work!