Sorry for the delayed post. It was stuck in my draft and I was hoping to get it done during the Raya holidays when I thought I won't have much work but turns out, I had work.
11th was the BIG day. I never realized time flew by so fast. I was just talking to him about how we met and all. We talked about it sometimes. Laughing at it all the time.
SP gave me so many surprises! He took me out to a nice place for dinner. Thank God, I was dressed well and not in my usual jeans. *phew*. Oh ya, we had yummy yummy food at The Ship (it was my first time there so it was awesome!)
He gave me another surprise right after the dinner. He gave me a small box which was wrapped. I was nervous. I never really received surprises like this before. I opened it and guess what I saw? You guess. It was the most sweetest thing ever. It gave me more hope to look forward. I'll never forget the engraving he did.
We went home and he said he had another surprise for me. I was like, "What? Another one?" Well, I wasn't expecting so many. This time it was a HUGE paper bag. Guess what was looking back at me when I opened it? I'll tell you this - it was a black handbag with the softest material you can think of and it was super uber light. Thank goodness he knows how to pick a handbag for me. If he ever picked a heavy one, I'll just end up hurting him cos it'll be too heavy to use. But I LOOOOOVE this one.
Note to
Mr. Azwan
: Thanks for all the surprises. Thanks for all the love. Thanks for everything.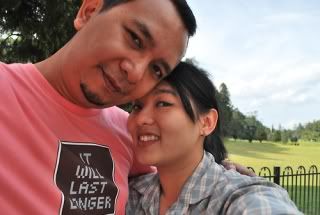 Hands off! He's mine. :P