Right. That's the exact name of the programme we had on Saturday, July 24th. Everything on abandon babies and abuse of children and peer pressure. This was a programme with the Kolej Pendita Za'ba students of UKM.
The agencies each had a booth. So did we. Astro Awani even brought in their prompter and camera to let the students try out on what it is like to be a newscaster. Karyawan on the other hand had a small open stage for anyone to perform!
There were three slots of discussion held for the university students and also the high school students. My big boss is the mentor for UKM and the university students will then be peer champions to the high school students and so forth. It was a great thing I believe when it comes to the matter of pregnancy out of wedlock, abuse and such.
Here's our booth. Our pop-up was too high for the booth thus we had to put it outside
The opening ceremony was awesome. I almost teared when the song 'Harapan Tanpa Suara' - the theme song for Kami Prihatin was played. I always feel sad whenever I listen to the song what more when it comes with visuals.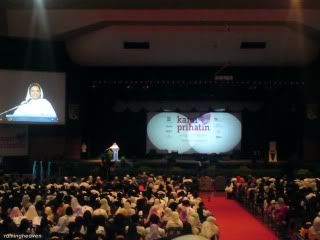 The big boss making her speech before she officiated the programme. Awesome audience of about 1000 plus students
The night ended with a Kami Prihatin concert which I didn't attend as I was getting ready for a programme early Sunday morning and also the trip to JB that Sunday evening. Heard that the concert was wonderful with Dayang Nurfaizah, Manbai, Bunkface and several others performing.
Note to all, Talian NUR 15999 is open 24/7. A one stop center which can be contacted through landlines, cellphones and even public phones. Call to make reports or ask questions regarding abuse, welfare, counselling and much more.