The office participated in the SMIDEC 2010. There were so many new things that I saw. I saw instant mee kolok on the display. Haven't been able to locate it in the supermarkets yet.
Oh yes, there'll be a limited edition MyVi out soon. Price wasn't available yet when it was on display. Here's a blurry picture of it.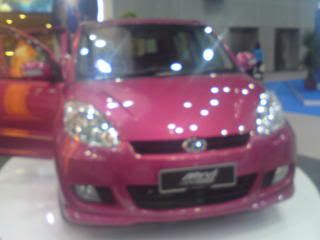 I didn't go have a closer look on the specs of the car. All I can say that it's a nice pink and I like it too - for a person who is not very much into pink items.
Other than that, recently while doing grocery shopping at Hero. Yes, went there because I'm to have dinner next door which is Hajris and I found Pringles with new flavours - Blueberry and Hazelnut and also Lemon and Sesame.
Surprised to find that these flavours exist and I do not know of it. Unsure if anyone of you tried it. If you have given it a try, do let me know what is it like. I'm curious but I'm not daring enough to try.
For those who has the heart for anything pink, it's time to splurge on the limited edition MyVi and those who have given Pringles' new flavours a try, come share it with us too.
Take care!