for day 6, i'll show you my new name card! i got two boxes of it. no difference with the old one except for the title. now now, what will i do with the previous 1 11/12 box of cards?
bookmarks
cards
collage
backings
haha...nonsense from me.. so here's an ugly shot from my nokia 7390 of the new name card!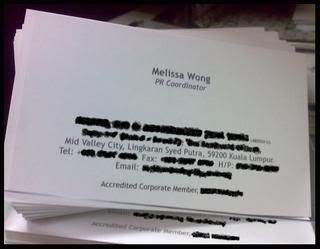 thank god i did not put my chinese name in the card or else all of you will know of it. haha..
in addition to that, during the staff meeting today, we'll be having the annual 'sau kung fan' in 2 weeks time. it's the year-end annual dinner according to the chinese tradtition apparently. but i personally think that it is same with any other year-end annual dinner.
ps : having to take pictures using my phone makes me appreciate both my nikon and sony more.