update for day 7, day 8 and day 9! woohoots!
the book that i'm currently reading. a thousand splendid suns by khaled hosseini. it's the best book i ever read in the past 6 months. from the where i last read (only 1/2 of the book), it talks of love, polygamy, war, war of gender, movies and many more. issues that relate to the heart. awesome book. go get a copy for your reading pleasure. that's me with the book cover.
chinese new year is coming. nothing is done at my house yet. unlike mid valley which is now filled to the brim with red and pink lanterns, typical chinese cart booths and the really chinese music. this is mid valley's centre court.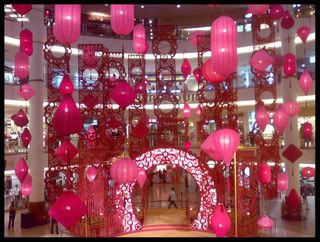 just now before i took my bath, i trimmed my fringe/bangs. it was long and you can actually see my balding forehead. this picture tells you how i would look like without any partings.
oh and yes.. remember the previous enty i mentioned about my twitching eye? (
click here
). it is still blardy twitching!! so darn irritating!!!