project 366-1 : day 13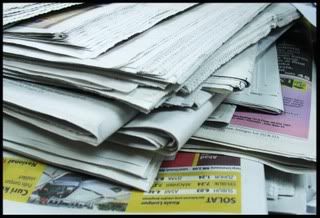 the pile of newspaper from saturday. today only i want to clear. yes, lazy me. i'm always like that. have to wait for the papers to pile up like a mountain before i clear it. NOT true ok. the most is the pile is worth 5 days of newspaper. let's do the math.
saturday and sunday : 2 days x 5 set of newspapers = 10 sets

monday and tuesday : 2 days x 6 sets of newspapers = 12 sets (as malay mail is not published on weekends)



TOTAL = 22 SETS!
----------
project 366-1 : day 14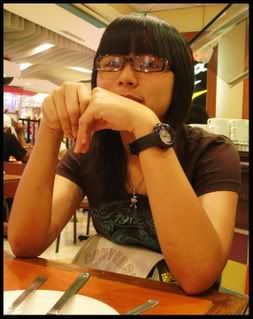 my sis, mabel and mom came to mid valley for window shop. yes, my dear wonderful sister is very smart. she
ponteng
-ed school! both my sisters very clever to
ponteng
school unlike their
tai ka che
(eldest sister in chinese) who managed to get 5 years full attendance.
gila sial!
mabel looks studious with her specs on right? bel, you should wear often then since it looks like you are those students who would "
NEVER
" have the heart to
ponteng
school.
----------
project 366-1 : day 15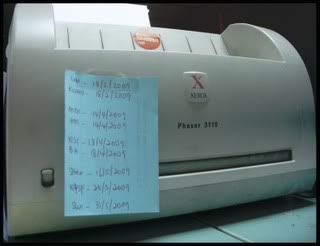 bringing you today the printer which is called the "service printer" since it is stuck to a "service pc" which services everyone in the office. the printer is right next to my monitor by about 5cm. ever since the best printer in the office (
hint hint : samsung
) (
psst.. i didn't say it is the best brand ok
) broke down and is now being serviced, everyone is stuck to use the service machine which will need to be service soon as the print out quality is not so good anymore. waiting for the samsung printer to return home before sending the service printer for service. aih.. how long more??