remember in my day 10 picture i mentioned that i send the
postcrossing
link to malay mail to be featured in cyberspot?(
click here
) it was featured in
wednesday, jan 28th's edition
- unfortunately, i was still in perak and i only got back yesterday. have to go office to check if they still have the copy of malay mail. oh yes, they used my picture from my blogger profile :)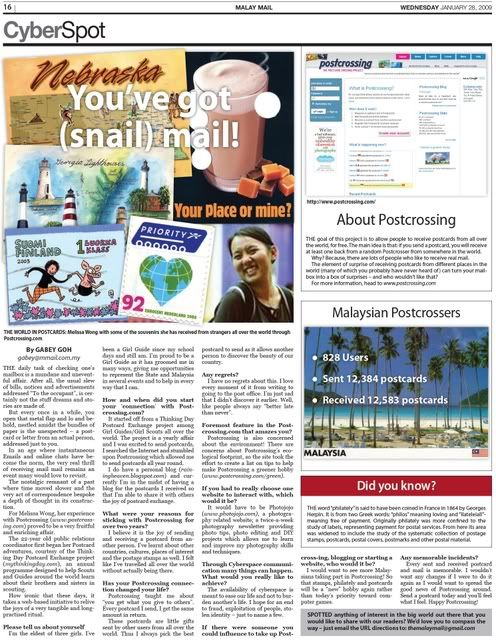 YOU'VE GOT (SNAIL) MAIL!
By Gabey Goh
The daily task of checking one's mailbox is a mundane and uneventful affair. After all, the usual slew of bills, notices and advertisements addressed "To the occupant", is certainly not the stuff dreams and stories are made of.
But every once in a while, you open that metal flap and lo and behold, nestled amidst the bundles of paper is the unexpected – a postcard or letter from an actual person, addressed just to you.
In an age where instantaneous Emails and online chats have become the norm, the very real thrill of receiving snail mail remains an event many would love to revisit.
The nostalgic remnant of a past where time moved slower and the very act of correspondence bespoke a depth of thought in its construction.
For Melissa Wong, her experience with Postcrossing (www.postcrossing. com) proved to be a very fruitful and enriching affair.
The 22-year old public relations coordinator first began her Postcard adventures, courtesy of the Thinking Day Postcard Exchange project (mythinkingday.com), an annual programme designed to help Scouts and Guides around the world learn about their brothers and sisters in scouting.
How ironic that these days, it takes a web-based initiative to relive the joys of a very tangible and longpractised ritual.
Please tell us about yourself
I'm the eldest of three girls. I've been a Girl Guide since my school days and still am. I'm proud to be a Girl Guide as it has groomed me in many ways, giving me opportunities to represent the State and Malaysia in several events and to help in every way that I can.
How and when did you start your 'connection' with Postcrossing. com?
It started off from a Thinking Day Postcard Exchange project among Girl Guides/Girl Scouts all over the world. The project is a yearly affair and I was excited to send postcards, I searched the Internet and stumbled upon Postcrossing which allowed me to send postcards all year round. I do have a personal blog (rainingheaven. blogspot.com) and currently I'm in the midst of having a blog for the postcards I received so that I'm able to share it with others the joy of postcard exchange.
What were your reasons for sticking with Postcrossing for over two years?
I believe it is the joy of sending and receiving a postcard from another person. I've learnt about other countries, cultures, places of interest and the postage stamps as well. I felt like I've travelled all over the world without actually being there.
Has your Postcrossing connection changed your life?
Postcrossing taught me about "you get what you give to others".
Every postcard I send, I get the same amount in return.
These postcards are little gifts sent by other users from all over the world. Thus I always pick the best postcard to send as it allows another person to discover the beauty of our country.
Any regrets?
I have no regrets about this. I love every moment of it from writing to going to the post office. I'm just sad that I didn't discover it earlier. Well, like people always say "better late than never".
Foremost feature in the Postcrossing. com that amazes you?
Postcrossing is also concerned about the environment! There are concerns about Postcrossing's ecological footprint, so the site took the effort to create a list on tips to help make Postcrossing a greener hobby (www.postcrossing.com/green).
If you had to really choose one website to interact with, which would it be?
It would have to be Photojojo (www.photojojo.com), a photography related website; a twice-a-week photography newsletter providing photo tips, photo editing and DIY projects which allows me to learn and improve my photography skills and techniques.
Through Cyberspace communication many things can happen.
What would you really like to achieve?
The availability of cyberspace is meant to ease our life and not to burden another's life. I hope for an end to fraud, exploitation of people, stolen identity – just to name a few.
If there were someone you could influence to take up Postcrossing, blogging or starting a website, who would it be?
I would want to see more Malaysians taking part in Postcrossing! So that stamps, philately and postcards will be a "new" hobby again rather than today's priority toward computer games.
Any memorable incidents?
Every sent and received postcard and mail is memorable. I wouldn't want any changes if I were to do it again as I would want to spread the good news of Postcrossing around.
Send a postcard today and you'll feel what I feel. Happy Postcrossing!
********

About Postcrossing
The goal of this project is to allow people to receive postcards from all over the world, for free. The main idea is that: if you send a postcard, you will receive at least one back from a random Postcrosser from somewhere in the world.
Why? Because, there are lots of people who like to receive real mail. The element of surprise of receiving postcards from different places in the world (many of which you probably have never heard of) can turn your mailbox into a box of surprises – and who wouldn't like that?
For more information, head to www.postcrossing.com