dad suggested to go cycling at taman botani, putrajaya. round 2 of cycling after pulau ketam. ok, so we agreed. woke up today and head of to taman botani after breakfast.
taman botani is
HUGE
. the first time we went there, we walked. not knowing it is that
BIG
. we didn't even complete 1/4 of the park. this time we cycled and did the
WHOLE
park. boy was it tiring. going downhill was obviously fun but going uphill is one hell of a task! well, taman botani was a disappointment. no flowers. even the map provided is not accurate. blah!
i ended up with my sunburnt arms again. yes, again. the rest of the family didn't suffer from it except me. i wonder why. just as my 1st sunburnt arms are getting better, here comes round 2. darn. haha.
here's a picture of an architecture which can found at taman botani.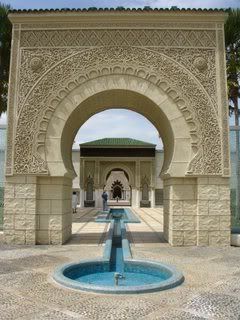 sorry for my crooked picture. will be posting more pictures soon.
after taman botani, we passed by taman wetlands. so dad was like, "since we are already here. we'll just turn in then". wetlands is on our way home, that's why. we climbed up the loo-out tower. my legs couldn't carry me there after all that cycling. haha. but i made it up there. thank god!